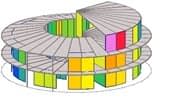 STANDARDS AND LOADS
Eurocodes with National Application Documents
Seismic Analysis
The software automatically calculates the wall lateral stiffness also taking into account the contribution of the connections
Equivalent linear static analysis and Modal linear dynamic (response spectrum) analysis
Собствени форми от земетръс и моменти в стените:
Scaling for wooden and steel elements:
CLT and platform frame walls
Walls with fixtures (OSB or plaster) over a wooden frame.
Vertical joints in CLT walls
onnections: hold down, angle brackets, screws, nails
Timber ceilings (joist floors, solid timber floors and CLT floors)
Timber or steel beams and columns
Lateral buckling of the beams
MATERIAL DATABASES
Timber materials: hardwood, glued laminated timber, CLT, plywood, OSB, gypsum-fibreboard, LVL, SWP, Duo/Trio
Steel grades
Connections: hold down, angle brackets, punched steel plates and straps, screws, nails
DESIGN CALCULATION REPORT
The software automatically generates a clear and detailed technical design calculation report which can be exported in Microsoft Word format.
Report Examples:
Wooden building with fixtures..
You can download comparisons of other methods to confirm the results - from here.
Import & Export
Import and Export architectural drawing in AutoCAD (.dxf file). Automatic export with a plan for монтажен план.